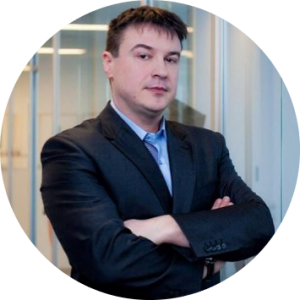 Marcin Łapa
Experience
10+ years of professional experience in the IT and development department and as a contracted consultant and project manager. Led and participated in business and IT projects, predominantly focused on building and adapting, as well as implementing ERP, CRM class systems, a proprietary service system supporting technical service operations, tools supporting the business processes of an organisation. In his career, he also worked as a project manager and team leader, an architect, a programmer, as well as a tester and implementator. He coordinated project works performed by subcontractors, colleagues and external programmers. He managed the business layer and the data layer of IT systems and was co-resonsible for IT infrastructure at an international corporation.
Fields of specialisation
PRINCE2 methodology is his special field of interest.
Educational background
Master in engineering from the Technical University of Warsaw, the Faculty of Mechatronics, Biocybernetics and Biomedical Engineering (2000). He also graduated from post-graduate studies in managing IT resources and project management at the Technical University of Warsaw, the Faculty of Automation and Applied IT.</p.