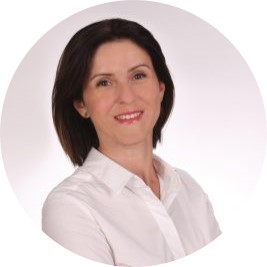 Urszula Kosicka
Experience
Business coach with many years of practice in training. She has experience in managerial positions related to team management and project management. Accredited PRINCE2® methodology trainer. Designs and conducts training sessions and workshops in project management and personal development. She created and managed the Media Education Center project – a training department within the structures of Polish Radio SA. She gained professional experience by implementing and supervising projects for private and public institutions in the field of education and personal competences. She worked at Johnson&Johnson Poland, carrying out implementation projects for employees. As a trainer, she spent about 3000 hours in the training room. Its satisfied customers include, for example: Toyota Bielany, Europ Assistance Polska Sp. z o. o., Energizer Group Polska Sp. z o. o., MPWiK Lublin, IPN, Central Statistical Office.
Fields of specialisation
She designs and conducts training sessions and workshops in the field of project management, strategic planning in organizations, effective use of time in projects, creative design of business models, as well as personal development and soft skills. A special area of interest is the PRINCE2®, AgilePM® and M_o_R® methodologies.
Educational background
A graduate of the Grzegorzewska Higher School of Special Education in Warsaw. She perfected her knowledge and skills during post-graduate managerial studies Leadership 2.0 at the Warsaw School of Economics, and the annual post-graduate School of Business Trainers in Warsaw. She is a certified project manager – certified by PRINCE2® Practitioner, M_o_R® Foundation, AgilePM® Foundation, IPMA level D, Design Thinking – creative design of business models.