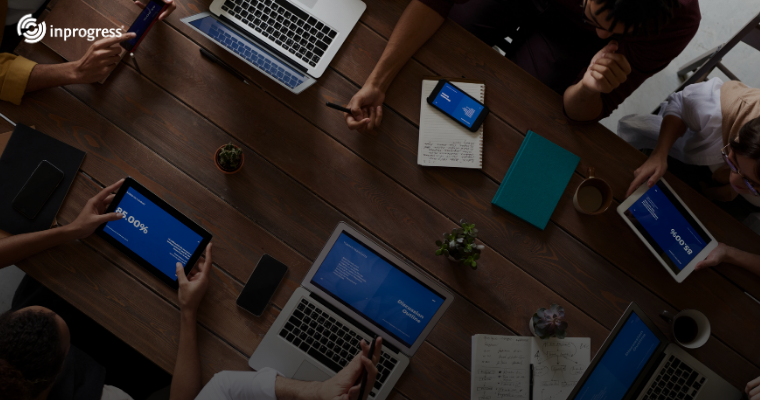 Training courses versus labour market. What does a certificate change in your career?
Studies and reports prepared by institutions engaged in HR and project management certify that accredited training courses and acquired certificates play a significant role in the process of personal development of a Project Manager, Business Manager, or project leader.
Are project management certificates necessary in a career? Is it not sufficient to possess knowledge and experience? Is it not sufficient to complete studies at a good university that are supported with professional practice?
'- When I talk with participants of training courses that I lead, I am convinced that project knowledge supported by certificates opens many doors. Despite the fact that we have labour market, requirements for good positions do not decrease. Quite the contrary. Nowadays, knowledge and experience are not enough. It is their confirmation by international project certificates recognised worldwide that counts. Therefore, quite often on training courses meet people on various stages of professional development. Quite often, these people are Project Managers with experience, for whom certificates are a pass to further career and trainings allow to solidify knowledge. There are also students or people, who just have started their adventure with project management. They want to acquire a specific and useful knowledge and prestigious certificate.'
– Agata Jakóbczak – PRINCE2® trainer at Inprogress. In her career, she managed various projects from advertisement, media, marketing, and PR industries. Author of several books, a.o. Transformersi. Superbohaterowie polskiej reklamy 80. – 90. (Transformers. Superheroes of Polish advertisement of 1980s and 1990s). Read whole biography note.
Knowledge and certificates versus job offers
The knowledge of issues related to managing projects according to selected methodology is one of the most important requirements during the recruitment for management positions in many companies. Possession of a certificate confirming knowledge and skills related to PRINCE2® or AgilePM® is one of necessary elements in profile of candidate i.e. for project coordinator, Project Manager, IT System Architect, Business Manager, or business analytics specialist positions.
It should also be noted that in 2018 the most popular job offers in IT industry concerned the position of Project Manager. The interest in work on management position has increased by almost 60% when compared to year 2017.
The most popular specialities according to the nofluffjobs.com report: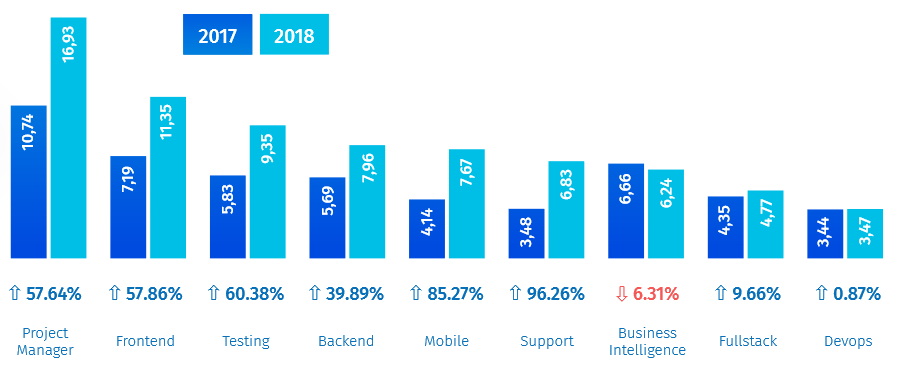 Source: Labour market in IT, nofluffjobs.com (full report)
' – I went to an interview – relates Magda, Project Manager with big experience in the FMCG industry. – I heard that although I have an impressive experience, they still want to see project management certificates that confirm my skills. I have decided to sign up for a training to get the PRINCE2 certificate. When I have obtained the certificate, I got the job that I wanted.'
' – I already have few certificates – says Adrian, Project Manager in IT industry. – For me, they are confirmation of my knowledge about specific subject. For me personally, this is a permit to develop competences in new areas. However, for an employer this is an information that I develop and show initiative as an employee.'
Competence needs of companies
The need for specialists on labour market and interest of candidates in managerial positions, however, are not always followed by appropriate competences. According to the Payroll Report prepared by hays.pl, one of the most important competence needs of companies in 2018 were managerial and leader competences. According to studies, those competences are extremely hard to acquire on the labour market.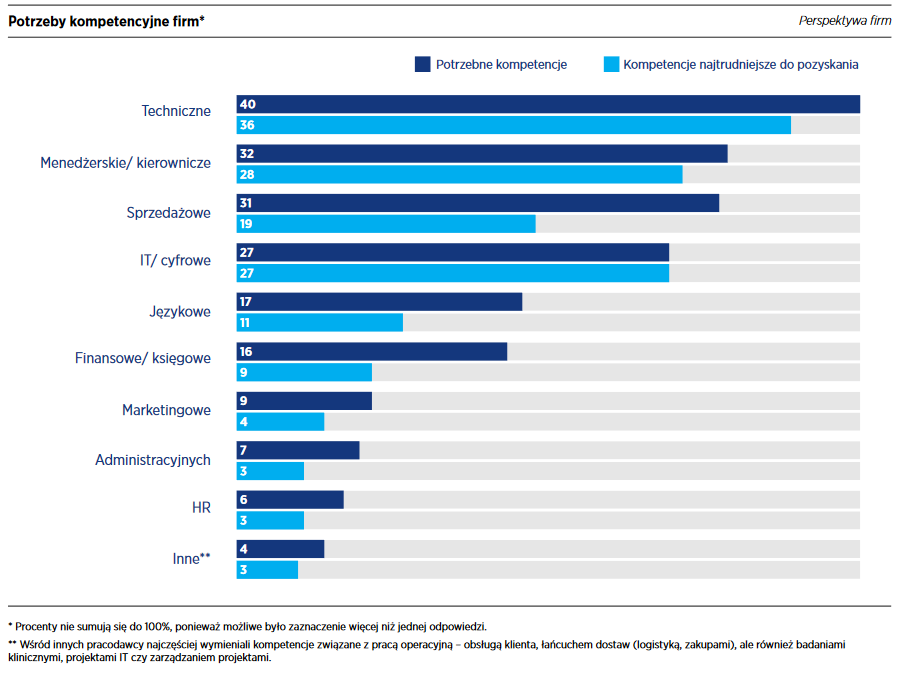 Source: Payroll Report 2018 – Trends on labour market, hays.pl (full report)
' – Acquisition of project certificates and training courses are extremely important – believes Tomek, student working in marketing. – They give an ability to acquire knowledge that not always is available on universities. Nowadays, companies employing people on various positions less pay attention to what university they graduated from and more often ask about training courses and practical use of knowledge. It is clear that it is worth to participate in certified training courses :).'
' – Our customers demand that people who provide services to them have knowledge confirmed by certificates – relates Elżbieta, Project Manager in IT industry. – Very often it is also a condition set by organisers of tenders. If you apply for a job, then international project management certificates give you an advantage above other candidates. The knowledge of project management methodology confirmed with certificate also counts in case of policymakers. It is important that those people have appropriate knowledge and know how to implement the most appropriate project management methodology in an organisation. '
Situation of Project Managers on the labour market
The worth of investing your time in the acquisition of appropriate certificates can be proven by annual Project Management Institute studies. According to the Earning Power: Project Management Salary Survey, 10th edition report, the annual salary of Project Manager in 2017 has increased by average by 4% in comparison to 2016. In addition, an upward trend of PM salary median can be seen in majority of countries, in which the tests were conducted.
Curiously enough, a certified Project Manager earns by average even 32% more than people without certification at similar position. This means that financial outlay invested in the process of acquiring appropriate confirmation of your knowledge and skills can be compensated even within one month.
' – When I returned to the labour market as Project Manager after double maternity leave, I faced a complete change of approach to PM. Now everyone, who wants to be seriously taken into account in the widely understood consulting should be able to present a PRINCE2 certificate or its equivalent. This opens many doors and expands the horizon of seeking work. Additionally, and this is very often forgotten, employers appreciate employees with knowledge certified with international certificate' – states Natalia, Project Manager (management consulting).
Which training courses should you choose?
We have discussed training courses, which are definitely worth to sign up for, in detail in article What training courses will increase the prestige of project manager at the labour market? Project management qualifications most popular in Poland can be acquired during following training courses:
PRINCE2® – traditional approach to project management,
—
Sources:
Labour market in IT, nofluffjobs.com (full report)
Payroll Report 2018 – Trends on labour market, hays.pl (full report)
Ciosek, Jesteś certyfikowanym Project Managerem – zarabiasz więcej, grantthornton.pl
Opinions of training participants were collected by Agata Jakóbczak, accredited PRINCE2 trainer.