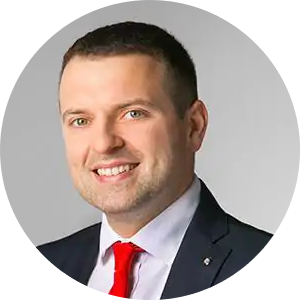 Marcin Trendel
Experience
A trainer, lecturer and managers with many year of practice in business and training. His professional experience includes more than 10 years of work in project, development and sales departments as well as teaching at a university.
He managed many large projects in HR, finance, real property and post-collection movables as well as successfully delivered one of the largest EU projects in Poland implemented under the Human Capital Operational Program. He is very experienced in traditional project management but also in managing projects by using Agile and PRINCE2 methodologies. He has many years of experience as a manager occupying managerial positions and managing project teams of several dozen people and running several projects at the same time.
Social activity has been and remains an important part of Marcin's professional life. He started off as a trainer and manager on the Board of the European Centre for Integration and Development and as the Deputy President of the Youth Forum at the Regional Chamber of Commerce in Katowice, where he set up a Carrier Bureau for students and graduates in 2005.He designs and runs training and workshops in project management, strategic management or HR management.
Fields of specialisation
He designs and provides project management, business analysis and human resources management training. Main areas of his interests are AgilePM®, AgileBA®, PRINCE2® oraz PRINCE2 Agile®.
Educational background
He graduated from the Faculty of Management of the University of Economics in Katowice (2007).
Certification: PRINCE2® Practitioner, AgilePM® Practitioner, PRINCE2 Agile® Practitioner, AgileBA® Practitioner and Change Management.